How Safe is "State-of-the-Art" Security?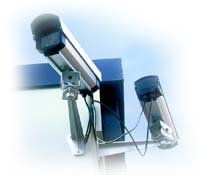 Exactly what "state of the art" means is mystifying to most of us, since everybody uses it to describe everything they make now.
Taken literally it should mean something that was invented two hours before the alarm went off this morning, and is the highest-of-the-high-tech-marvels known to man.
Just because it was announced today, however, means nothing. It could be a cheap knockoff of something that truly is "state of the art."
A few specifics in plain English would help. Herewith we present some 24-carat examples of high-tech security and the questions you should ask before reaching for your credit card.
Security Check #1
What is it about your perimeter fence
that keeps out intruders?

First, scratch from your list facilities that don't have a perimeter fence. Chances are you won't like much else about them either. Now for those that do. Get the manager to explain precisely what it is in the design and construction of his fence that deters intruders. Is it wired so that an alarm goes off? Is it so tall it takes a crane to get over? Is it so stout that an intruder couldn't easily get through with industrial gauge chain hitched to a pickup? Has anyone ever broken through since the business was opened? How is that, why is this? There's no such thing as too many qualifiers when it comes to sizing up how effective a facility is in convincing would-be intruders they'd be better off going somewhere else.
Security Check #2
How effectively does that entrance gate
screen out the people we don't want in?

What type of gate controller does the property have? The vast majority of the facilities use a keypad for entering and exiting. Each tenant is given his or her individual code that allows access. Every time you enter and leave using the keypad, you leave a record of the time entered, duration of stay, and the time you left. Some properties have a keypad for entry but not for exit which will not track the time you spent on the property.
Security Check #3
It seems every self storage facility promotes the advantage of video cameras. What will
yours do that others won't?
Many facilities today use closed circuit television (CCTV) to not only provide 24-hour surveillance, but to use as a marketing advantage over the properties that do not. However, this may increase the rental rates a few dollars. Take note of the camera locations as compared to the unit you have selected to see that you are in the viewing, if not, you may want to request a different location. Most facilities provide surveillance tape for thirty days and then it is reused; if the interval is shorter, it may not provide the desired security.
Security Check #4

I hear that good locks can make a difference,
but any lock can be broken. How will I know
when I've got enough?

Most perpetrators will not spend more than a couple of minutes trying to remove a lock from a door. Therefore many locks are now rated on how long they can endure assault. They range from Class 1 which lasts one minute, to Class 5 at five minutes. Terrific, but what about bolt cutters? The lock that could foil that probably doesn't exist yet. Behold the disk lock. This is a round lock that would give King Kong fits. It's secret is that its circular design limits the shackle's exposure so that bolt cutters will have a dickens of a time finding a notch to clamp down on. It costs more, yes, but it's worth it.
Security Check #5
What is it about your lighting that should make
me feel safe when coming in at night?

Lighting can be critical if you will need to access the facility at night. Drive by the facility on your way home some night to see how well it is lighted. If the property has indoor corridors, ask how the lights work. Some are on timers that allow a limited amount of time. If there's any doubt that the lighting isn't sufficient for your unit's location, ask to be relocated.